Israel suspends Ramadan entry for 83,000 Palestinians after Tel Aviv attack
Comments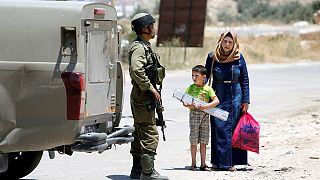 Israel has suspended Ramadan entry permits for thousands of Palestinians following a shooting in Tel Aviv which killed four people.
It affects at least 83,000 Palestinians in the West Bank and Gaza who had received permission to visit relatives during the Muslim holy month.
Work permits of more than 200 relatives of the alleged gunmen, identified as Palestinians from a village near the city of Hebron, were also frozen.
The morning after the attack at the market where the gunmen had opened fire people were keen for life to return to normal. This resident explained that they were 'getting on with their lives, waking up, going to work' adding that she was scared about what happened but everyone was continuing as usual.
Security footage showed the moment when two men posing as customers shot at diners as they rushed to escape, at least six other people were wounded.
Though there was no claim of responsibility, Hamas and other militant groups hailed the attack. The father of one of the presumed gunmen said, "The news we received was difficult to hear, because my son is not affiliated to any political party or organisation, even though he has two uncles in prison, one with seven life sentences and another with one life sentence. But we didn't expect this, my son is young and has been in Jordan for the past four years and just came here in the past five months. He does not have any political affiliation."
The Palestinian Authority governing the West Bank said it was cooperating with Israel on security coordination in the wake of the shooting.
Since October 2015, 32 Israelis and two US citizens have been killed, and 196 Palestinians were shot dead by Israeli forces.