Two suspects are detained following shooting at Tel Aviv shopping centre
Comments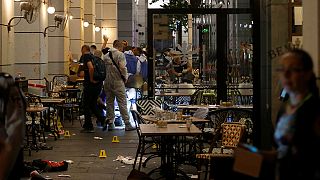 Israeli police have arrested two suspected gunmen in connection with a shooting at a shopping centre in Tel Aviv
At least four people died in the attack and several more more were injured.
The incident took place Wednesday evening at Sarona Market, which lies opposite an Israeli defence ministry building.
Witnesses say both the gunmen who are thought to be Palestinians, opened fire outside the open-air shopping complex. One of the suspected attackers was wounded when he was detained.
Israeli media have identified the suspects as cousins from a village near Hebron in the West Bank.
The shooting is one of the most serious assaults in Israel's business and entertainment capital since a wave of Palestinian violence began eight months ago.
Since then Palestinians have killed 31 Israelis and two visiting US citizens. Israeli forces have shot dead at least 196 Palestinians.
The frequency of Palestinian attacks which have included stabbings, car rammings and shootings have lessened recently.
SHATTERINGUPDATE: Death toll of mass shooting terror attack in Tel Aviv rises to 3.
4 y/o girl among victims. pic.twitter.com/XOo33s8ZhE

— Israel News Flash (@ILNewsFlash) June 8, 2016