Syria approves UN humanitarian aid deliveries to 19 besieged towns
Comments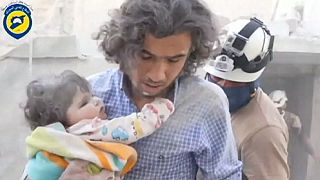 The United Nations special envoy for Syria says an operation to deliver aid to 19 besieged and hard-to-reach Syrian towns has been approved by the government in Damascus.
Staffan de Mistura was speaking to reporters after the weekly meeting of the Syria humanitarian task force, co-chaired by the US and Russia.
He said that a lot of action is required to make sure the aid gets to where it is needed.
"You know very well and we know very well that approval does not mean delivery. So, there is a lot of actions that need to take place between approval and delivery, including the possibility of not being stopped at the last minute at a road block, including the fact of medicines not being pulled out."
De Mistura also said the United Nations will not hold another round of Syria peace talks in Geneva until officials on all sides agree the parameters for a political transition deal, which has an August 1 deadline.
"The time is not yet mature for the official third round of the intra-Syrian talks," de Mistura told reporters.
Further, he said he had heard from Russia about a release of a "substantial number" of fighters detained by the Syrian government, but he wanted to get confirmation and more detail.
Battle for Aleppo
Meanwhile the Syrian Ambassador to Russia said that the battle for Aleppo will be considered the most important battle.
Riad Haddad told the Russian State Duma the Syrian army will soon move towards the city and it will liberate it from all "terrorists" with the support of Russian Aerospace Defense Forces.