Tributes pour in for boxing legend Muhammad Ali
Comments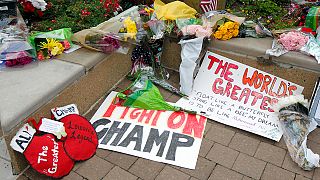 Tributes from around the world have continued to pour in for boxing legend Muhammad Ali, following his death at the age of 74.
The former fighter died in hospital in Phoenix, Arizona after suffering from respiratory issues.
It has been confirmed the cause of death was 'septic shock due to unspecified natural causes'
A public funeral will be held in Ali's hometown of Louisville in Kentucky next Friday, the family's spokesman confirmed.
"Muhammad's extraordinary boxing career only encompassed half of his life, the other half was committed to sharing a message of peace and inclusion with the world, following his wishes his funeral will reflect those principles and be a celebration open to everyone," said Ali family spokesman Bob Gunnel.
Earlier, as fans gathered outside the Muhammad Ali Center in Louisville to pay their respects, world leaders past and present reacted to news of Ali's passing.
"He opposed the Vietnam war. He made decisions and he lived with the consequences of them and he never stopped being an American even when he became citizen of the world and he inspired people all over the world,'' former US President Bill Clinton said.
Self-proclaimed 'The Greatest' the three times world heavyweight champion was known as much for his activism as his boxing brilliance.
Despite being diagnosed with Parkinson's disease in 1984, soon after retiring, Ali political influence endured.