Ali - the boxing world pays tribute
Comments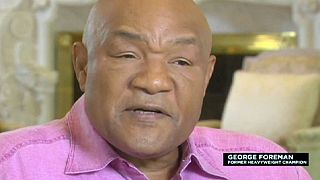 He was a citizen of the world and would want people from all walks of life to be able to attend his funeral
A public funeral for Muhammad Ali
The funeral of boxing legend and global sporting figure Muhammad Ali will be held this coming Friday.
The public ceremony will be held in Ali's hometown of Louisville in the state of Kentucky, the Ali family said in a statement.
Former US President Bill Clinton will reportedly be among those who will give a eulogy at the service.
The triple world heavyweight champion died on Friday night at a hospital in Arizona.
The 74-year-old was being treated for a respiratory illness, complicated by the Parkinson's disease which he had had for a long time.
"Ali was one of the greatest human beings"
George Foreman lost his world title to Ali in the famous eight-round "Rumble in the Jungle" in Kinshasa in 1974.
He was one of his greatest opponents – and closest friends.
"I met the most nice-looking, most handsome guy I had ever met in my life – and he was a boxer. I mean, he belongs to the arts, he belongs to politicians and he belongs to science. What a phenomenon – and it is something we will not see again, I can tell you that," Foreman told reporters.
"The 'Rumble in the Jungle' – I call it the 'Mugging in the Jungle'. I went there with two heavyweight title belts, came out with none!"
"A transformative figure"
Bob Arum was a boxing promoter who befriended Ali 50 years ago.
"I think when you talk about Muhammad Ali, as great an athlete, as great a boxer as he was and he was the greatest boxer of all time, he means so much more to the United States and the world," Arum said. "He was a transformative figure in our society."
Muhammad Ali rose to prominence in an era when African-Americans lived under extremely difficult conditions.
With a charismatic combination of sporting flair and social activism, he was times a divisive figure in the US.
However, people seem to be uniting around him in the wake of his death.
In tweets
Goodbye my friend. You were Great in so many ways. https://t.co/4rY68GF8mB

— Bill Clinton (@billclinton) June 4, 2016
When we were Kings for sure, Academy Awards
My dearest friend and me pic.twitter.com/VwTfi5WLEg

— George Foreman (@GeorgeForeman) June 4, 2016
A true great has left us. MuhammadAli</a> transformed this country and impacted the world with his spirit. <a href="https://t.co/ByNZYhM2ro">pic.twitter.com/ByNZYhM2ro</a></p>&mdash; Bob Arum (BobArum) June 4, 2016
What they are saying
"He was a citizen of the world and would want people from all walks of life to be able to attend his funeral," – family spokesman Bob Gunnell
"To put him as a boxer is an injustice," –
George Foreman
, who lost his world title to Ali in the famous "Rumble in the Jungle" fight in Kinshasa in 1974.