Violent hunger protests hit Venezuela
Comments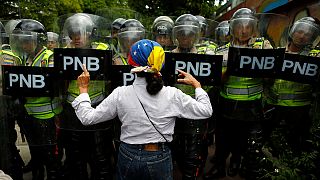 Venezuela has been rocked by more violent demonstrations as protesters demanded a recall referendum on President's Nicolas Maduro's rule.
Hit hard by the collapse in oil, the South American nation's economy has imploded, leading to high inflation and a chronic shortage of basic goods.
One recent poll showed almost 70 percent of Venezuelans want Maduro stripped of his powers.
''A better Venezuela. Thats why we are here. To save the country. Because it is extremely sad to see your own son starving,'' said a woman.
''Listen, the Venezuelan people are desperate, we're hungry. I never thought we'd reach this point. We are determined to solve these problems. The political repression is not the main problem. We just want this to come to an end, not for us, but for our children. Our future has already been badly damaged for years,'' one protester said.
From the Venezuelan capital Caracas, Euronews' Alberto de Filippis said: 'This demonstration began with a few dozen protesters. By the end there were thousands shouting,
'Maduro go home'. Eventually, police dispersed the crowd using teargas.''