Authorities validate petition signatures in first step towards ousting Venezuelan president
Comments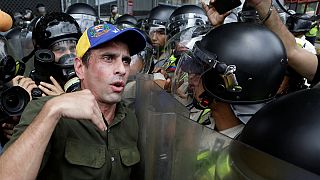 Venezuelan security forces used tear gas to block hundreds of opposition protesters on Tuesday. It was the latest rally to demand a recall referendum to remove socialist President Nicolas Maduro.
We are dying of hunger, there's no food.

Demonstrator - mother of two children
National Guard troops barred the protesters' way as they tried to march to the National Election Board.
Many Venezuelans blame Maduro for the collapse of the economy and food shortages.
Venezuela suffers from hyperinflation, empty shops, out-of-control violence, & the collapse of basic public services https://t.co/QlRaRQzjDF

— Cato Institute (@CatoInstitute) June 7, 2016
"I'm Venezuelan," said one demonstrator. "I signed my signature for a referendum and I'm demanding my rights. What's happening? They (police) don't let us through. We are dying of hunger, there's no food. There are queues. I'm a mother to two children."
First success
Venezuela's opposition coalition won control of the National Assembly legislature in elections last December, thanks to public ire over a punishing economic crisis, and has vowed to bring down Maduro this year.
However, the opposition accuses the electoral authorities of delaying verifying the signatures on a petition calling for the referendum. But its been reported that over 1.3 million signatures have now been accepted as valid.
Long way to go
The decision moves the lengthy recall process on to the next step, in which 200,000 signatories must validate their identity with fingerprint scans.
The opposition must then gather four million more signatures to call a referendum on sacking Maduro.
According to the constitution should Maduro, 53, lose a vote and leave office this year, a new presidential election would be held, but were he to exit in 2017, his vice president would take over. That would guarantee continuity for the ruling "Chavismo" movement – named for Maduro's late predecessor Hugo Chavez – for two more years.