Venezuelan protesters demand a date for a recall referendum to oust President Maduro
Comments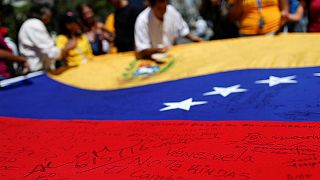 Thousands of Venezuelan opposition supporters gathered in the capital Caracas on Monday demanding a recall referendum to remove President Nicolas Maduro.
Tensions have been building in the deeply divided country as the economy continues to fall apart and the ruling party blocks the opposition from legislating in congress.
Venezuela opposition in new protests for recall vote https://t.co/OEAqvL5iSzpic.twitter.com/wduxhlv1Kb

—

AFP

news agency (@AFP) June 6, 2016
The secretary of the opposition coalition, Jesus Torrealba told protesters it was up to the people to decide:
"This crisis is not going to be resolved no matter what the government says and no matter what the opposition says. This crisis will be resolved because of what the Venezuelan people say. An anticipated electoral consultation in accordance with the Venezuelan constitution, it is called a recall referendum, which cannot be negotiated at any table because it is a constitutional right."
Government critics staged a symbolic signing of placards in favour of the referendum, with the slogan #MySignatureCounts.
While they blame Maduro for the economic collapse, the socialist government says political foes are fanning the crisis with an "economic war" and seeking a coup against him.