First funerals held for victims of Istanbul car bomb attack
Comments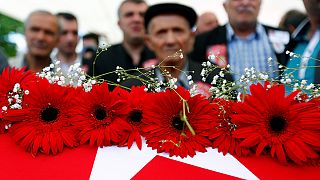 Mourners gather for the first funerals after a car bomb attack in Istanbul killed 11 people and injured 36 others.
Two police officers who were killed when the blast hit a police vehicle were laid to rest at a ceremony in the city.
The service was attended by Prime Minister Binali Yildirim and former President Abdullah Gul. Other ceremonies took place for the four other fallen officers elsewhere in Istanbul.
Earlier the prime minister visited the area devastated by the explosion and said, "Whatever methods they use, the Turkish Republic is strong, it is one and united."
So far no group has claimed responsibility for the attack, however, a spokesperson for the President said that 'all signs' point to Kurdish militants.
Kurdish militants have staged similar attacks in Turkey's major cities in recent months, after a ceasefire with the government collapsed almost a year ago. However, the so called Islamic State group and radical leftists have also been behind recent attacks.