Euro 2016: A brief glimpse at Euronews' Euro 2016 nations
Comments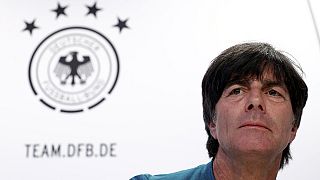 There's not long to go before kickoff at Euro 2016, so Euronews took this opportunity to take a brief glimpse at some of the participating nations represented by our sports team.
Italy
Antonio Conte's Azzurri do not begin the tournament as favourites despite their footballing pedigree.
But they do have an outside chance that's for sure.
Marco Verratti and Claudio Marchisio's absence in midfield could prove damaging, but the squad boasts other players with a lot of experience, such as Gigi Buffon.
It also has young talented players, spearheaded by Napoli midfielder Lorenzo Insigne.
Don't forget there revenge in the air for that defeat in the final four years ago in Kiev against Spain.
Revenge against hosts France for David Trezeguet's golden goal in 2000 would also give the champagne an even sweeter taste.
France
Despite the disappointing Benzema-Valbuena affair, the racism allegations against coach Deschamps and a host of injuries, especially in defensive, "les Bleus" can still win Euro 2016.
The squad boasts fantastic players such as Hugo Lloris, Blaise Matuidi and Antoine Griezmann, who play for major European clubs.
Then there's the fact that the competition takes place on home soil, just like in 1984 when Platini captained the side to Euro victory and then in 1998 when Zidane and Co enjoyed World Cup success.
England
With an average age of 25, England are taking their youngest ever squad to the Euros and will be the youngest squad at this tournament.
It's a dynamic, exciting and an attack-minded team highlighted by the superb talents of Dele Alli, Jamie Vardy and Harry Kane.
Wayne Rooney, Joe Hart and James Milner provide the experience as this team look to finally end England's 50-year wait for a major piece of silverware? (If you need reminding – probably not – the last time was the 1966 World Cup)
And Let's face it, Leicester city winning the Premier League title this past season has proved anything is possible.
Russia
''One for all and all for one'' This is the official motto of Russia's Euro 2016 team.
Leonid Slutsky does not have world class stars in his ranks, but the team does have a strong collective spirit which comes to the fore when the going gets tough.
Just before the tournament Russia suffered a string of injuries in midfield, notably Dzagoev and Denisov.
Consequently a question mark hangs over the starting 11 for the opening game.
For Russian fans, reaching the last 16 would be a success, but they do believe their side can create an even bigger surprise in France and go further.
Germany
Germany are strong contenders for the title having won the 2014 World Cup.
They have won the Euros three times – only reigning champions Spain have matched that feat.
We all still remember Spain's last two triumphs quite well, although the 2008 final comes to German minds with a bit more heartbreak.
Germany's last success was 20 years ago – in 1996.
In France the four-time world champions will look to become four-time European champions as well.
Ukraine
At the last European Championship Andrei Shevchenko and his Ukraine team-mates played co-hosts to the competition, bypassing the qualifying rounds.
This time Mykhaylo Fomenko's team deservedly placed themselves among Europe's finest by battling through qualification and breaking their playoffs hoodoo.
Ukraine are hardly favourites for the title, but the team has plenty of talent and skill to scare the toughest of opposition in France.
And European football fans will also get the chance to discover other interesting Ukrainian talents aside the better-known Yevhen Konoplyanka and Andriy Yarmolenko, such as midfielder Oleksandr Zinchenko and striker Roman Zozulya.
Spain
Spain head to France looking to make amends for a very poor World Cup in Brazil two years ago.
'La Roja' will have to make do without key players who have either retired or are out of through injury such as Xavi, Carles Puyol and Santi Cazorla.
But Spain do have new young talent ready to impressive in France – Alvaro Morata and Nolito for example.
Let's not forget also that Spain have date with history: winning a record third-straight continental crown.
Turkey
As usual Turkey grabbed their Euro ticket at the last moment.
They take on 2012 winners Spain, and once again Croatia and the Czech Republic.
Turkey will need to pull something very special out of the bag to get out of Group D.
Of course Fatih Terim's men are not among the favourites for the tournament but they could spring a surprise like they did in 2008 against Czech Republic and Croatia before being beaten in the semis by Germany.
Their first match is against Croatia at the Parc des Princes in Paris.
Portugal
For the last 20 years, Portugal have always reached the quarter-finals of the European Championship and it's reasonable to expect them to do it once again.
It's a well experienced team, particularly in the back line, but there's also new blood in the midfield, with rising stars such as João Mário, André Gomes and Renato Sanches.
In attack, everything rests on the shoulders of Cristiano Ronaldo. If he's fully fit, Portugal can dream higher but it's been a demanding season for the Real Madrid star and he has a tendency to arrive at the big tournaments exhausted.
Hungary
For a couple of generations of fans in Hungary this will be the first time they can support their national team at a European championship.
Hungary last qualified for the Euros 44 years ago.
In 1972 the former footballing powerhouse came fourth, now it is considered a success to be present in France.
Supporters hope that after so many years they will not have only three matches to watch their nation in action and that they'll reach the last 16.
In their group they play against Austria, Iceland and Portugal.