Cameron and Farage face televised audience questions over Brexit
Comments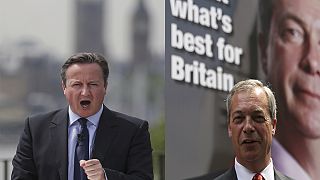 "Britain is a fighter not quitter", said British Prime Minister David Cameron as he and eurosceptic politician Nigel Farage faced questions in a live EU televised debate.
Leading the "Remain" campaign, Cameron pressed home his criticism of those who want to leave the European Union and accused them of wanting to damage Britain's economy.
"And here's what really happens if we leave, of course we'd still want to sell into that single market, so we'd still have to meet all the rules and the regulations that Brussels lays down but we won't be at the table, we'll be like a country with our ear and our face pressed up against the glass trying to find out what's happening with the other 27 countries making rules that affect our country."
1/2. Today, credible experts are warning about the risks to our economic security, while the Leave campaign is resorting to untruths.

— David Cameron (@David_Cameron) June 7, 2016
Nigel Farage who is leader of the UK Independence Party (UKIP) once again raised the issue of immigration and was scathing of the EU project.
"I think the Eurozone is a catastrophe, just look at what they've done to Greece and those Mediterranean countries. The migrant crisis is now not just dividing countries but dividing within countries leading to a whole new brand of politics. The money's run out and yet at the same time they're saving up for the day after our referendum their announcements about a European army and about an increased European budget. The project doesn't work."
We would be safer outside of the EU, controlling our own borders. #ITVEURefhttps://t.co/w6cjhfnuhG

— Nigel Farage (@Nigel_Farage) June 7, 2016
The debate was one of several scheduled in the run up to the June 23 referendum. Latest opinion polls show the "remain" camp with a mere one point lead over those who want to leave the bloc.