Netanyahu meets Putin in Moscow
Comments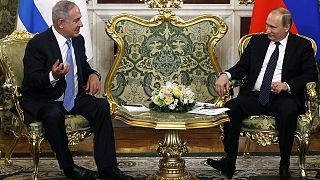 We have many mutual challenges
What is happening?
Russian President Vladimir Putin has welcomed the Israeli Prime Minister to Moscow.
It is the third time Benjamin Netanyahu has visited Russia in the last year.
This time, it is for the 25th anniversary of the resumption of diplomatic relations between the two countries.
Why is Russia important for Israel?
Analysts say with Russian forces fighting alongside Iran and Hezbollah guerillas in Syria, Putin is the closest thing to a guarantor that Israel's three most potent adversaries will not attack from the north.
Why is Israel important for Russia?
Netanyahu can offer Putin reciprocal Israeli restraint in Syria, where Russia maintains a strategic Mediterranean base.
There could also be the opportunity to play a greater role in Israeli-Palestinian peacekeeping, a process that has long been dominated by the United States.
Is the timing significant?
When Netanyahu last visited Russia in April, it was three days after a visit by Palestinian President Mahmoud Abbas.
On Wednesday, when the Israeli prime minister departs, Russian Foreign Minister Sergei Lavrov is scheduled to host his Palestinian counterpart, Riyad al-Maliki.
With the Obama administration in its final months, Netanyahu has been a more frequent visitor to Moscow than Washington.
Some say this shows he is aware of a shift in the balance of power in the Middle East.
What they are saying
"We in Russia attach great important to our contacts with Israel. And not only because Israel is an important country, one of the key countries in the Middle East situation, but due to historic relations between our states," – Russian President Vladimir Putin, during a meeting at the Kremlin.
"We always have things to discuss, there are topics that are very important for our countries: technology, agricultural cooperation, trade, regional problems. We have many mutual challenges," – Israeli Prime Minister Benjamin Netanyahu to Putin.
The two countries "each express their positions in a pretty constructive manner and all of this contributes to this rather frequent and intensive communication," – Kremlin spokesperson Dmitry Peskov.
"Netanyahu is not defecting, but what we see here is a bid to manoeuvre independently to promote Israel's interests," – Zvi Magen, former Israeli ambassador to Russia.