French floods kill four as Seine river starts to recede
Comments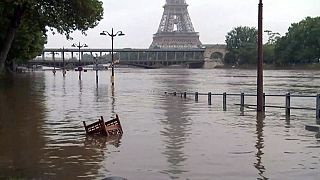 Following the French capital's worst flooding in decades, signs at last the river Seine has stabilised and is slowly starting to recede.
Officials say they don't expect water levels, however, to return to normal for at least a week after peaking above six metres.
Across the country, four people are now reported to have died in the floods and thousands forced from their homes.
A wave of strike action has also compounded the misery and earlier, France's Prime Minister Manuel Valls called on workers to end their dispute.
"Punishing transport users who are having to endure this bad weather, floods, is unacceptable and I ask everyone to take responsibility and to stop this strike movement as soon as possible," he said.
South of the French capital, the suburb of Villeneuve-Saint-George, remains one of the hardest hit areas.
President Francois Holland has said a state of natural disaster will be declared later this week – a move which will trigger compensation payments.