Venezuelans protest as the country suffers hyperinflation, power cuts, and "food shortages"
Comments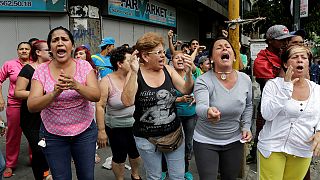 Marches in Venezuelan capital Caracas turned violent as the opposition to President Nicolas Maduro's government continue to say the country is suffering a "food shortage".
No more talk, we want food!
100 protesters charged down the main thoroughfare near the presidential palace chanting "No more talk, we want food" in reaction to the country's crippling economic crisis.
A petition bearing 1.8 million signatures was handed to Venezuela's National Electoral Board (CNE). It has not yet delivered a ruling on whether to accept or reject the document which endorses a recall referendum against the president.
CNE cancelled the meeting in which it would decide whether to go ahead with efforts to remove Maduro from office, although the president's opponents say that Venezuela faces widespread unrest if the authorities do not call a referendum this year.
Opposition spokesperson, Jesus Torrealba, called on the Venezuelan people to "remain calm" as they await the decision of the board.
Parties trading blows
Maduro's government accuses the opposition of inciting violence while they say that he has allowed the country to go short of food through poor governance.
Reports say that the country is grappling with hyperinflation, a sharply declining economy and power cuts so bad that public servants have been put on a two day week.
Venezuela is experiencing mounting violent crime as the population's mood becomes increasing frustrated.
In April, the president personally urged Venezuelan women to stop blow drying their hair in an attempt to save on electricity.
Venezuela, where hair dryers are villainized for crashing the socialist run grid. https://t.co/MqOP4uMB67Allison_R_M</a> <a href="https://twitter.com/DividendMaster">DividendMaster

— Doug Rink (@TalkSouthRadio) April 15, 2016
Economic crisis
Venezuela's economy is forecast to decline a further eight per cent this year, with a predicted inflation of 700 per cent.
Although the country has the world's largest oil reserves, Venezuela has spiraled into decline as the cost of oil has tumbled over the last 18 months.