Houthi supporters denounce Saudi-led air strikes in Yemen
Comments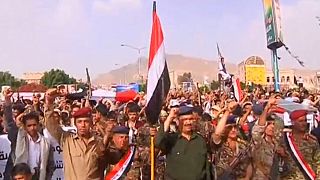 Thousands of pro-Houthi demonstrators gathered in Yemen's capital Sanaa on Friday (June 3) to denounce intensive airstrikes launched by Saudi-led Arab Allies against Houthis.
The protesters waved Yemeni flags and chanted anti-Saudi slogans.
"We took to the streets today to demand the whole world to break the illegal siege against Yemen – the sea, air and land siege from all sides – which is considered a siege outside of international agreement and is part of the aggression, a part of the killing," said one protester. "This siege that was ignored by state reports, despite causing a disaster for the Yemeni people."
For more than a year, the Saudi-led coalition has been fighting Houthi rebels and their allies who control much of the country.
Both sides have accused each other of violating a temporary ceasefire.
The war has killed more than 6,200 people and displaced more than 2.5 million people.
A British parliamentary inquiry has been investigating the use of UK-manufactured weapons in the conflict.