Europe flood death toll rises to 15 as waters begin to recede
Comments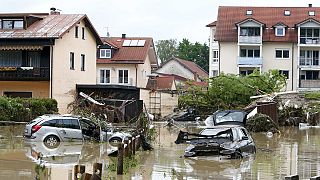 At least 10 people in Germany, two each in France and Romania, and one in Belgium have died as a result of the flooding in Europe.
Heavy rain has devastated parts of Europe and rising floodwaters have claimed the lives of some who were unable to escape its path.
The German town of Simbach where the death toll reached six on Friday is one of the worst affected areas. With the water now mostly receded, clean up operations have begun.
Huge clean up after #flooding in #Simbach people from neighboring towns are coming to help dwnews</a> <a href="https://t.co/Nv9JvV0vaq">pic.twitter.com/Nv9JvV0vaq</a></p>&mdash; Birgitta Schülke (BirSchuelke) June 3, 2016
Romania saw two killed by the raging floodwaters and residents in the east of the country are using and method they can to escape to higher ground.
Over 4,500 police and firemen were deployed in an effort to get aid to those in dire need.
EUROPE: Heaviest rain recently has spread to Romania. #floods#thunderstorms Darren pic.twitter.com/FX1ZQnVaM6

—

BBC

Weather (@bbcweather) June 3, 2016
President Francois Hollande declared a state of emergency in some areas of France, promising to fund efforts to deal with damage.
In Paris, the Louvre and Orsay museums are closed, and river boat services are not running.