Rising floodwaters in Germany and France claim more lives
Comments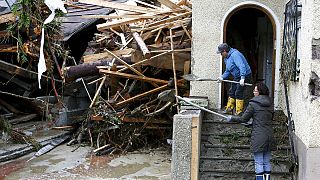 At least nine people have been killed in floods in Germany's Bavaria state.
Officials say many millions of euros worth of damage has been caused by the extensive flooding.
In the town of Simbach, 120 kilometers east of Munich, firefighters found the bodies of three women in the basement of a flooded house.
One resident described how her neighbour had become trapped inside her house when the water jammed the door. She had to sit upstairs with the water rising around them.
Disaster relief crews were helping prepare for more possible flooding as weather forecasters said more storms are expected.
"What is unusual is the amount of precipitation – it's exceptional for the season," said meteorologist Corentin Fourneau. "It should last until the weekend and will gradually improve during the course of next week first in Germany and followed by the west of Europe."
Parisian waters
Meanwhile Paris has never experienced so much rain since records began more than a hundred years ago.
Thousands of people have been evacuated across the Paris region.
In the centre of the French capital, the River Seine rose above five metres. That forced rail operator SNCF to close a metro line that runs along the river and is used by tourists to get to the Eiffel Tower and Notre Dame Cathedral.
The Louvre museum will be closed on Friday (June 3) to allow priceless artworks to be removed if the river keeps rising.
President Francois Hollande declared a state of emergency in the worst affected areas. He promised money to help local authorities deal with the flood damage.