Paris on high alert as heavy rains across Europe cause havoc
Comments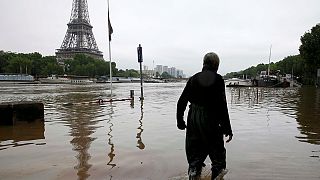 Heavy rain and flooding continue to bring misery to much of western Europe. In France, the town of Nemour, south of Paris, saw some of the worst devastation.
At least 3000 residents had to be evacuated, many by boat, after the river Loing rose to levels not seen for more than a 100 years.
French authorities say at least two people have died in the flooding while thousands have been left without power.
In the French capital, the world's most visited museum, The Louvre,has closed its doors in order to move artworks vulnerable to rising waters. The city remains on high-alert with floodwaters expected to peak later on Friday due to the river Seine swelling up to six metres above normal levels.
Elsewhere in the Loire Valley, there were stunning scenes after waters surrounded the famous 16th century Chateau of Chambord.
In neighbouring Germany, prolonged torrential rain in the southern state of Bavaria has also left several people dead.
The town of Simbach am Inn, 120 kilometres east of Munich, saw some of the worst damage after a torrent of water and mud engulfed the town centre.
For the moment, however, there appears to be no let up in the bad weather with more downpours expected.