Strikes over French labour reforms threaten Euro 2016
Comments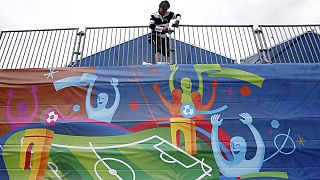 French strikers have said that they do not care about Euro 2016 on the eve of the tournament.
As protests rage on against the controversial new labour reforms – which would make hiring and firing easier for employers – those on strike are told that the government will not back down as "French Prime Minister Manuel Valls insists the country is "not in chaos"":http://www.theguardian.com/world/2016/jun/02/france-can-change-manuel-valls-on-why-he-wont-back-down-over-labour-reform.
The #frenchstrikes prove that suppressing change / reform does nothing but harm. Lesson to other nations atm as well https://t.co/PdjIsQf2sJ

— Annie Adragna (@adragnaaa) May 28, 2016
Train workers at France's state-owned railway SNCF have been on strike since Tuesday evening both over the labour reforms and issues regarding national rail reorganisation relating working hours and pay.
About half of the country's trains were cancelled on Thursday in the disputes as the government seeks to resolve them.
Open-ended strike brings rail misery #frenchstrikeshttps://t.co/PACtQWHDu5

— Frank Aquila (@FAquila) June 1, 2016
The militant General Confederation of Labour (CGT) coalition of trade unions has said that strikes are prepared to continue.
Pilots and power plant staff are set to strike on 11 June, the day after the Euro's start.