Messi arrives at court to give evidence in tax evasion case
Comments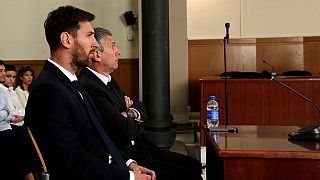 Argentina and Barcelona FC captain Lionel Messi arrived at court on Thursday, accused by the Spanish Government of defrauding 4.2 million euros in tax.
The player missed the first two days of the trial – which began on Tuesday – due to a bad back and proceedings are expected to end on Thursday.
Both Messi and his father – who is in charge of the footballer's financial affairs – are accused of using tax havens in Belize and Uruguay to cover up earnings from image rights between 2007 and 2009.
The pair deny any wrongdoing, with Messi saying he doesn't read contracts before signing them.
Lionel Messi in court: "I didn't know anything… all I know about is playing football and winning" #humblebrag

— Ed Malyon (@eaamalyon) June 2, 2016
Messi, who has been named World Player of the Year five times, is one of the richest athletes in the world.
Last year alone he earned 66 million euros from his salary and endorsements.
In June 2015 the high court in Barcelona said that the footballers should not be granted immunity for not knowing what was happening with his finances.