Germany and France face more rain after deadly floods
Comments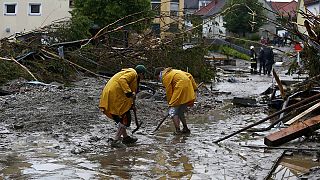 The damage to homes and businesses is devastating and the number of lives lost in flood-hit parts of Europe continues to rise.
We're expecting the worst

Police spokesman in Bavaria
Particularly hard hit is Simbach am Inn, some 120 km east of Munich, in the southern German state of Bavaria.
Firemen found the bodies of three people in a flooded house in the town on the border with Austria. In a nearby village, a drowned woman was found hanging over a tree trunk in a stream.
"We are having a big clean-up today and having to mourn some fellow citizens which is very sad," said one local man.
"We have experienced floods before but this time it is really worse. We have been renovating this house for a whole year but now it is ruined from top to bottom," said Simbach am Inn resident, Sieglinde Simboeck.
At least two people were missing in the Bavarian district of Rottal-Inn.
"We're expecting the worst," police spokesman Michael Emmer said, adding that divers were searching for those missing.
Weather forecasters said more rain was expected in the region on Thursday, further complicating the rescue works.
Earlier this week, three people were killed in floods in the southwestern German state of Baden-Wuerttemberg and a young girl was killed by a train as she took shelter from the rain under a railway bridge.
In France, floods have also been destructive and deadly as Prime Minister Manuel Valls observed on a visit to water-logged Nemours near Paris on Thursday.
The body of an 86-year-old woman was found in a town nearby.
At least five people dead as France, Germany and Austria hit by flash floods https://t.co/sHk8tHbic7

— The Independent (@Independent) 2 juin 2016
Local people say they have never seen anything like this – and the crisis is far from over.
"In the centre region and here in the Ile-de France Paris region, as you can see, the situation remains extremely tense and difficult and the weather forecast calls for us to be vigilant," Valls told reporters.
In other words, yet more rain is set to fall, compounding the misery for those on the ground.
More than 20,000 French homes were without electricity on Thursday morning.