German police arrest three Syrians after terror conspirator turns himself in
Comments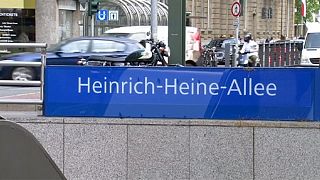 German police have arrested three Syrian men with alleged links to the so-called Islamic State. The men were allegedly preparing a large-scale attack in the city of Dusseldorf.
Their plans were undermined by a fourth Syrian man, who turned himself in to French police in Paris in February and confessed to being involved.
"There was an apparent plan based on the so-called Mumbai style to carry out simultaneous attacks in various places, including with explosives. But the planning was not yet advanced enough, with specific steps, beyond just the general idea because information was, thank God, exchanged early on, which enabled for the arrests," said the Interior Minister for North Rhine-Westphalia Ralf Jager.
German police spent four months between February and now building a case and collecting evidence against the cell, which prosecutors say was deployed by IS in 2014.
German intelligence has stated it believes IS has used the chaotic refugee influx to get fighters into Germany.