Police to investigate Cincinnati Zoo gorilla shooting
Comments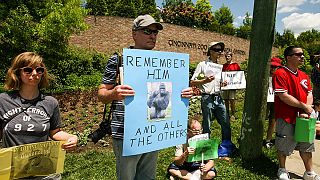 Parents of boy who fell into gorilla enclosure to be investigated
Animal activists file negligence complaint against zoo
Wildlife expert defends shooting of gorilla
Police are investigating an incident at Cincinnati zoo in which a gorilla was shot after a four-year-old boy fell into his enclosure.
The death of Harambe, an endangered western lowland gorilla, has outraged animal lovers and prompted an animal rights group to file a negligence complaint against the zoo.
Michael Budkie who is the Executive Director of Stop Animal Exploitation NOW explained why:
"We're talking about a 3 or 4-year-old child here. This isn't someone that came in with grappling hooks and ropes. And, from what has been discussed in the news media, it didn't take this child that long to get through. So you tell me – if a 4-year-old child can get through the physical barrier, is that a safe barrier?"
At the same time police are looking into the actions of the parents that led up to the incident, who've been criticised on social media for not controlling their son.
Gorilla shooting slammed as 'MURDER' as Twitter users blame parents for losing sight of kid https://t.co/VyqA0xKJR6pic.twitter.com/SeReJjsbGI

— Daily Mirror (@DailyMirror) May 29, 2016
Meanwhile wildlife expert Jack Hanna has defended the zoo's decision to shoot the animal.
"Beyond a right decision. He's sitting out here with this thing that plopped in the moat. Well what is this thing. All of a sudden the people up there are screaming. So the gorilla is like this – what's this thing. The family took off and when a gorilla is upset like a silverback. You wouldn't want to witness what I've witnessed in the wild. When they go after each other and the young males come in and take over the big male. It's beyond anything you've ever wanted to watch."
The boy who was concussed is recovering after being dragged through shallow water by Harambe.
The zoo says it had no choice but to shoot the gorilla as tranquilisers would not have worked in time to save the child.
The incident has sparked much debate and even gained the attention of Republican presidential nominee Donald Trump:
ICYMI: Here was realdonaldtrump</a>&#39;s verdict on the shooting of Harambe the gorilla. <a href="https://t.co/LUzHfmoNOf">https://t.co/LUzHfmoNOf</a> <a href="https://t.co/XSal6xxTnf">https://t.co/XSal6xxTnf</a></p>&mdash; Reuters Politics (ReutersPolitics) May 31, 2016