Gorilla shot dead after playing with toddler who fell into enclosure
Comments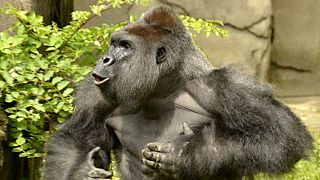 A four-year-old was rescued from a terrifying ordeal after falling into the enclosure of an adult gorilla at Cincinnati Zoo.
The animal, a western lowland gorilla named Harambe was shot dead after zookeepers saw it swinging the boy around and decided immediate action was needed to save the child's life. Tranquillisers would have been too slow to act, they decided.
The incident was recorded by visitors to the zoo and the video below shows the child being dragged around, but not the shooting of the animal.
Here's the rest of the video #cincinnatizoo#gorilla#harambepic.twitter.com/fF2itjNbDx

— Amber Soler (@Amber_Soler) May 29, 2016
Visitors were evacuated from the enclosure during the incident following concerns their cries were alarming the gorilla.
The boy was taken to hospital where his injuries were deemed not life threatening.
"The choice was made to put down, or shoot, Harambe, so he's gone," said Zoo president Thane Maynard. "We've never had a situation like this at the Cincinnati Zoo where a dangerous animal needed to be dispatched in an emergency situation."