Japanese sales tax increase delayed until 2019 to avoid recession risk
Comments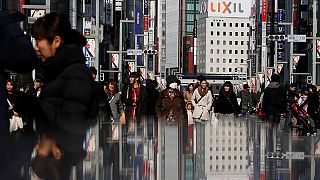 Japan's Prime Minister Shinzo Abe has confirmed that he will delay a scheduled sales tax increase by two-and-a-half years from April 2017 to 2019.
I decided that I should delay the sales tax increase because it might damage domestic demand
He said that is because putting up VAT "might damage domestic demand".
It is the second time Abe has delayed the increase in the sales tax to 10 percent from eight percent.
The decision is a climbdown by the prime minister and his policy of 'Abenomics' in the face of continued weakness in Japan's deflation-plagued economy.
He wants to avoid a repeat of what happened two years ago when Japan was tipped back into recession by a VAT increase.
Treading carefully: Japan's Shinzo Abe delays a sales tax rise https://t.co/HkKAxLfjySpic.twitter.com/JDOrvAEW6Y

— Financial Times (@FT) June 1, 2016
The problem is the tax money is needed to pay down the country's massive government debt and fund the ballooning social welfare costs of a fast-ageing population.
The corporate profits that Abe had been counting on to fuel gains in wages have failed to materialise.
Profits fell at the fastest pace in more than four years in January-March, which could encourage companies to cut back on future capital expenditure plans.
In addition revised data confirmed on Wednesday that manufacturing activity in May contracted by the most in more than three years as new orders slumped.