Signals picked up in Mediterranean could be doomed MS804's black box
Comments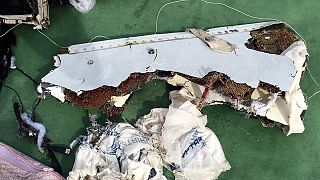 A French naval search vessel has picked up signals that could be emanating from one of EqyptAir flight MS804's black boxes, according to an Egyptian investigation.
The committee said that the French ship "Laplace" received signals that could help find the missing data recorders, which hold vital information for those investigating what caused the plane to crash.
"The French vessel "Laplace"… has received through its search equipment signals from the seabed of the wreckage search area, assumed to be from one of the data recorders," a statement said.
"Extensive search efforts are being carried out to locate the two data recorders in preparation for their retrieval."
It said that Mauritius-based vessel "Deep Ocean Search" is en route to help retrieve the devices.
The Airbus A320 disappeared in May and plummeted into the Mediteranean sea on its way from Paris to Cairo, killing all 66 passengers on board.
Its black boxes are designed to emit a signal for up to 30 days after a crash, giving search parties a window of around five weeks to locate the plane.
Human remains, airplane parts and luggage are among the items found thus far and are currently being analysed.
The cause of the crash remains unknown.
EgyptAir
The airline has seen as many as 9 plane crashes and many security breaches since it was founded in 1971.
In 1999, 217 people were killed after EgyptAir flight 990 plummeted into the Atlantic Ocean near the North-East coast of America.
In its first five years of existence, the Egypt national airline was involved in three plane crashes, claiming 150 lives.
The airline has also suffered a series of hijackings with the bloodiest occurring in 1986, when a Palestinian gunman took control of a flight from Athens to Cairo, culminating in a tense standoff, a botched raid and the deaths of 58 passengers.