EgyptAir crash: doomed plane's distress signal 'picked up by satellites'
Comments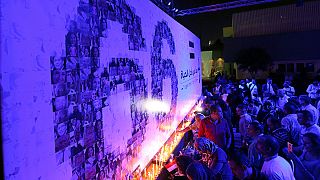 Reports say aviation authorities have confirmed that the EgyptAir plane which crashed into the Mediterranean earlier this month emitted a distress signal.
Authorities in the US and Egypt have said that satellites picked up an emergency beacon after the airliner disappeared from radar on its way from Paris to Cairo.
The passenger jet with 66 people on board is thought to have plunged into the sea about 180 miles north of Alexandria.
Investigation teams are on their way to the area with deep water detection systems that it is hoped will help locate the flight recorders.
Debris including seats and luggage as well as body parts have already been found.
The French aviation safety agency has said the plane transmitted messages indicating smoke in the cabin and a fault in the flight control unit minutes before losing contact.
Egyptian and American investigators have claimed an emergency transmitter sent an automatic distress signal – according to a US official, seven minutes after the plane vanished from radar.
It's not known what caused the plane to come down so suddenly.