Turkey warns Germany over vote on Armenian mass killings
Comments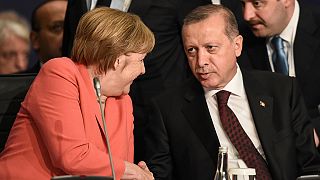 Turkey has warned Germany against voting for a parliamentary resolution recognising the mass killings of Armenians as a genocide.
According to Turkish sources, President Erdogan spoke with Chancellor Merkel over the phone to express his concern over the draft law. He later told reporters that some people were trying to 'deceive' Germany about the events which took place over a century ago, saying, "If Germany takes the bait, of course this will damage the future of our bilateral diplomatic, economic, commercial, political and military relations – since we are two countries in NATO. I believe that all of this will be thought about (prior to the vote)."
The Bundestag is expected to back the planned resolution to call the killings of up to 1.5 million Armenians by Ottoman forces a genocide.
But there are fears that it could stir tensions with the sizeable Turkish community living in Germany.