Golden State set up rematch of 2015 NBA finals after beating Oklahoma in decisive game seven
Comments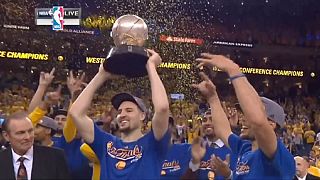 The record-breaking Golden State Warriors completed their stunning comeback on Monday night by beating the Oklahoma City Thunder in game seven to reach the NBA finals for a second consecutive season.
Steph Curry and company became only the 10th team in NBA history to rally from a 3-1 deficit to win a best-of-seven play-off series.
The Warriors however didn't get the final game of the Western Conference final off to the ideal start and were down by 13 points during the first half.
But the defending NBA champions fought back in fine fashion to claim an historic victory.
On home court and much to the delight of the home fans MVP Curry scored 36 points with seven 3-pointers to finish with an NBA-record 32 in a seven-game series.
Klay Thompson added 21 points as the Warriors – who set a new record of 73 regular season wins – celebrated a 96-88 victory.
As Oklahoma return home in disappointment, Golden State return to the NBA Finals for a repeat of last year's showpiece match with LeBron James and the Cleveland Cavaliers.
Game one is on Thursday night in Oakland.