French strikes multiply as Euro 2016 nears
Comments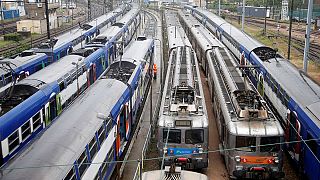 Strike action is multiplying in France and the timing couldn't be worse with the Euro 2016 football tournament due to start there in just 10 days time.
Francois Hollande's government is locked in a bitter confrontation with the hardline CGT union over a labour reform bill that would make hiring and firing easier.
"What does he know about the world of work?" asked Daniel Giovagnoli, 47, a petrochemical industry worker, protesting near Marseille.
"Because he went to ENA (France's elite administration school) or Sciences Po (France's elite political science school). They want to reform work regulations but these people don't know what the word 'work' means."
Encouraging a climbdown, CGT union leader in Marseille, Olivier Matteu, 42, said: "There is no shame as a political leader when you have made a mistake to go back on your decision."
But in a newspaper interview, the Socialist president insists the bill will not be withdrawn.
It is a message he has repeated continually.
#UPDATE: France's Hollande pledges to press on with labour reform https://t.co/rJNCtDOwdL

— AFP news agency (@AFP) 27 mai 2016
His determination comes despite ongoing industrial action at oil refineries that has seen fuel shortages in France and 'unlimited' strikes beginning this week, on Thursday on the Paris Metro and from Tuesday evening at the SNCF state railway.
This will be the eighth strike day since March for train staff who are also protesting at the reorganisation of their working hours.
With French air travel also set to be disrupted by work stoppages, visiting football fans from across Europe can only hope their dreams of watching the beautiful game won't be affected.
French unions threaten to disrupt Euro 2016 with strikes https://t.co/b0ncQuGnPu

— The Guardian (@guardian) 29 mai 2016