Rescuers publish image of drowned migrant baby
Comments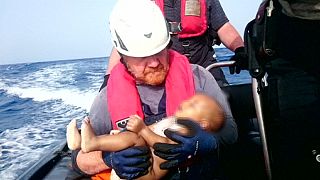 A photograph of a drowned migrant baby cradled in the arms of a German rescuer has been published by a humanitarian organisation.
The baby, who seems to be less than a year old, was pulled from the sea on Friday after a wooden boat carrying migrants capsized.
Drowned migrant baby photo circulated to spur sympathy https://t.co/m9BEmFxlRUpic.twitter.com/Fd28LvOuPF

— Washington Examiner (@dcexaminer) May 30, 2016
Little is known about the child. Rescuers have not confirmed whether it was a boy or a girl. It is not clear whether the child's parents are among the survivors.
45 bodies arrived in the southern port of Reggio Calabria aboard an Italian navy ship, which picked up 135 survivors from the same incident on Friday.
"I got hold of the baby and pulled it into my arms, as if it were still alive. It held out its arms and tiny fingers into the air, the sun shone into its bright but motionless eyes," said the rescuer, who gave his name only as Martin.
A human face
Like the photograph of three-year-old Syrian boy Aylan Kurdi lying lifeless on a Turkish beach last year, the image gives a human face to the 8,000-plus people who have died in the Mediterranean since the start of 2014.
More arrivals
The Italian coast guard ship "Dattilo" docked in Sicily on Monday with 322 migrants on board.
Officials say 130 of them are less than 18 years old.
#SAR#CanalediSicilia Nave Dattilo CP940 della #GuardiaCostiera soccorre 5 gommoni. Salvate circa 800 persone pic.twitter.com/UihZVSXKQv

— Guardia Costiera (@guardiacostiera) May 24, 2016
It is feared around 700 people were lost in the Mediterranean last week.
"There have been more than 80 rescue operations in the last week since the 23rd of May. More than 13,000 people were rescued with the help of the Italian coastguard operation centre in Rome. It was a particularly intense week in terms of rescues," said Captain Alessio Morelli.
What they are saying
"In the wake of the disastrous events, it becomes obvious to the organisations on the ground that the calls by EU politicians to avoid further death at sea sum up to nothing more than lip service," – statement from Sea Watch.