Israeli media reports police recommend indicting PM's wife
Comments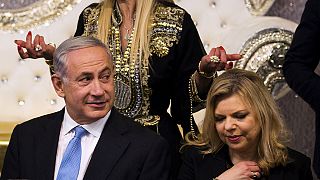 Israeli police have reportedly recommended bringing criminal charges against Prime Minister Benjamin Netanyahu's wife on suspicion of misusing state funds.
Sara Netanyahu is alleged to have used public money to care for her late father and over-billed for meals.
The Netanyahus have long faced scrutiny over their spending but have dismissed accusations that their lifestyles are out of touch with ordinary Israelis.
The Israeli first lady has also come under fire for her alleged abusive behaviour toward staff.
The Netanyahus say they are the victims of a media witch-hunt and have denied any wrongdoing.