German weekend football dominated by AfD chief's 'racist' Boateng comment
Comments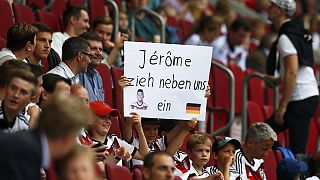 There is local pride in the Berlin district where German international footballer Jerome Boateng grew up.
But his and Germany's performance on the pitch at the weekend were overshadowed by the furore following allegedly racist comments by the deputy chief of the right-wing AfD (Alternative for Germany) party.
The newspaper Frankfurter Allgemeine Sontagszeitung claims that Alexander Gauland, 75, said that Germans thought he was a good footballer but did not want him as a neighbour.
The Bayern Munich defender, whose father is from Ghana, is one of several Germany players with a foreign background.
"It's quite sad that such things happen but you can't change it.
I hope it gets better… there've been a lot of good responses," Boateng said.
The football world and beyond has rallied round the player.
German fans at Sunday's friendly against Slovakia responded with a banner saying "Jerome, please move in next door!"
"Integration is more successful than Mr Gauland describes. We saw it when thousands of refugees came to Germany. Now it's important to set an example in daily life as well as in special situations," said Reinhard Grindel, President of DFB (German Football Association).
Gauland has since claimed he was only describing other people's attitudes and wasn't making a personal comment.
The newspaper says it recorded the conversation.
The AfD (Alternative for Germany) party has a radical anti-immigration stance.