Journalists held by Colombian rebels freed
Comments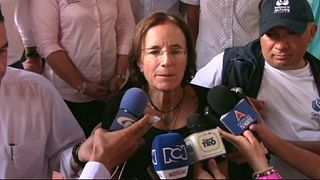 Three journalists held by Marxist rebels in Colombia have been freed after up to six days in captivity.
Spanish reporter Salud Hernandez went missing while investigating a story on the illegal drug trade.
She told a news conference the leftist National Liberation Army (ELN) treated her well.
''We have already enough problems, we dont need any more. If you don't go to these areas of Colombia you don't know them. You can't speak about the 'El Tarra' zone [where she was kidnapped] from a desk in Bogota for God's sake, or even from a desk in Cucuta. So, they have to let us work. Period – end of subject.''
The rebels said in a printed statement it was responding to what it perceived as a security threat.
The incident surprised many as the group had agreed to enter into peace talks with the Colombian government at the end of March.