Iran swears in its tenth parliament
Comments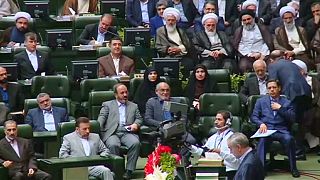 All our programmes are aimed at protecting our people and our society against poverty and unemployment
What is happening?
Iran has opened its tenth parliament.
Newly-elected members of the 290-seat chamber took the oath of office as the assembly met on Saturday.
Senior government officials attended the ceremony.
Iran's new parliament in four
Independent counting suggests this will be the first parliament in more than 20 years with neither a conservative nor reformist majority.
Commentators think this could lead to continual political horse-trading in the vote.
The contest to elect a speaker, one of parliament's first tasks, is seen as an early test.
Choosing a speaker
The speaker will be chosen in an election on Sunday. Two main figures – former speaker Ali Larijani and prominent reformist Mohammed Reza Aref are in the running.
What is the background?
Elected in votes in February and April, the 290-seat assembly replaces one dominated by hardliners suspicious of the West.
There were attempts to curb President Hassan Rouhani's plans to liberalise the economy and increase productivity.
Was President Rouhani there?
Yes.
He delivered a speech focusing on reforms, the economy and fighting unemployment.
PresidentHassanRouhani</a>: People Are for a Strong, Effective Parliament<a href="https://t.co/0mXJGHAjYI">https://t.co/0mXJGHAjYI</a> <a href="https://t.co/i7txAY6Vl7">pic.twitter.com/i7txAY6Vl7</a></p>&mdash; Iran Front Page (IranFrontPage) May 28, 2016
"All our programmes are aimed at protecting our people and our society against poverty and unemployment," he said.
"Over the past two decades, there is no country that has managed to reach a proper economic growth and proper employment without interacting with the world."
"Today, we are happy that others are not taking our share in OPEC. Soon, we will regain our previous oil export quota," Rouhani explained, adding that Iran would aim for an economic growth of eight percent.
He estimates the country will need 30 to 50 billion dollars of inward investment to reach an 8% growth threshold.
The figure last year was 1%.