Rio police probe 'gang rape' of 16-year-old by 'more than 30 men'
Comments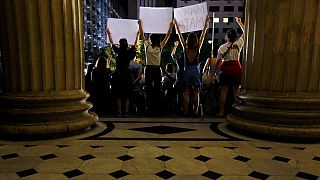 Police in the Brazilian city of Rio de Janeiro are investigating allegations that a 16-year-old girl was brutally raped by more than thirty men.
Brazil's interim president posted a tweet condemning the alleged rape of an adolescent in the city of Rio.
Suspended President Dilma Rousseff changed her Facebook profile photo to the Venus female gender symbol.
The Portuguese for "rape is not the victim's fault" was among trending hashtags.
Arlanza Rebello, who coordinates the Defence of Women Group says it was a barbaric crime and that society is mobilized by the gravity of the situation. She says this is a mirror, a reflection, of this conservatism that still remains in our society."
The cruelty of the apparent assault is the latest bleak chapter for Brazil and Rio, which is getting ready to host the Olympic Games in August.