IOM says fewer migrants dying on Mediterranean route to Europe
Comments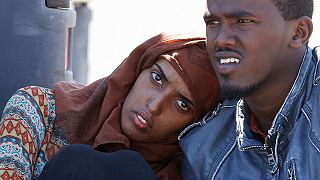 "If we fail at this, we fail at everything" Chief of the International Organization for Migration William Lacy Swing said at the World Humanitarian Summit in Istanbul.
It is possible that the period of stark lethality [...] may have run its course.

Spokesperson, International Organization for Migration
It seems a corner is being turned as the group announced fewer migrants are dying on the Mediterranean route into Europe.
'if we fail at this we fail at everything' - @IOMchief at the @WHSummit#pseapic.twitter.com/YvkVgxoImg

— IOM (@IOM_news) May 23, 2016
The IOM says 2,725 people were rescued trying to reach the continent from Libya across 24 hours between Monday and Tuesday (May 23-24).
Experts put this down to the group having greater access to Libya following the formation of a UN-backed national unity government in April.
The figures
So far in 2016, the death toll at sea is down a reported 25 percent from last year, to 1,370. This figure may reflect better handling of refugee flows, the Organization said.
IOM spokesperson Joel Millman said:
"It is possible, and I want to stress that it is possible, that the period of stark lethality that has been going on since 2013 may have run its course by now. Maybe we will see a safer summer than we had anticipated a few weeks ago."
Included in the death toll are 13 people in May, none of whom perished on the eastern route between Turkey and Greece. There, new arrivals have slowed right down since a European Union-Turkey agreement was struck to curb the flow.
A year ago, 95 people died in May, while in the same month in 2014, 330 perished.