ISIL-claimed bombings on Assad strongholds are condemned by US and Russia
Comments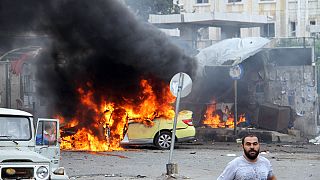 Bomb blasts which killed nearly 150 people and injured another 200 in the Syrian coastal towns of Jableh and Tartous have been condemned by both the US and Russia.
The attacks on the two Syrian government strongholds were the first of their kind in cities which have, up to now, escaped the worst of the violence in the five-year-old conflict.
UPDATE: Death toll from ISIS bombings in Jableh and Tartous in NW #Syria's rises to more than 140 – Reuters</a> <a href="https://t.co/dmVX6mIzzA">https://t.co/dmVX6mIzzA</a></p>&mdash; Conflict News (Conflicts) May 23, 2016
Tartous is home to a Russian naval facility and Jableh is near a Russian-operated air base.
ISIL militants have claimed responsibility. The group controls large parts of northern and eastern Syria, carried out suicide bombings in the capital Damascus and the western city of Homs earlier this year.
The Kremlin has said the bombings underscore the need to press ahead with Geneva peace talks.
In the meantime Washington has called on Russia to urge the Assad regime to end attacks on Aleppo Daraya. Russia later announced a "regime of calm" on the latter.
Further cooperation between Washington and Moscow however looks unlikely. An earlier proposal by Russia's Defence Minister Sergei Shoigu for joint airstrikes on Nusru Front has been rejected by the US which said better monitoring and enforcing a cessation of hostilities was a priority.