Iran appoints hardliner Ahmad Jannati to lead powerful assembly
Comments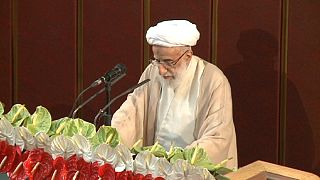 Ahmad Jannati has been chosen to lead Iran's new assembly of experts, the body which oversees the work of the country's supreme leader and will elect his successor.
Jannati was voted chairman of the 88-member Assembly with 51 votes.
The 90-year-old is said to be dismissive of President Hassan Rouhani and his attempts to end Iran's global isolation by normalising ties with the West.
He is also the leader of the Guardian Council, a hardline vetting body that disqualified thousands of reformists from standing in February's elections for the assembly and parliament.
In a letter to the new assembly, carried by state media, Khamenei asked the new members to "guard the Islamic and revolutionary identity" of Iran and pay attention to the "personal and political piety of the [next] supreme leader".
Election of Hardline Ayatollah Jannati by Assembly of Expert members is a setback for Rouhani and his supporters. #Iran

— Meir Javedanfar (@MeirJa) May 24, 2016
The assembly of experts, consisting mostly of elderly clerics, is expected to choose the successor to supreme leader Ayatollah Ali Khamenei, who is 77 and rumored to be in frail health.
The supreme leader has the final say on all state matters, including foreign policy. He is commander-in-chief of the armed forces and appoints the heads of the judiciary and state broadcasting.
By comparison, the president has little power.
President Rouhani and former president Akbar Hashemi Rafsanjani, are also members of the assembly.