Idomeni: Greece says operation to clear camp going smoothly
Comments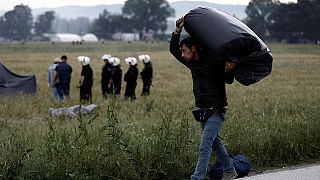 An operation to clear Europe's biggest makeshift refugee camp is progressing without problems, Greek officials say.
Hundreds of riot police moved into the Idomeni camp with bulldozers at dawn on Tuesday, ordering residents to leave.
At least 8,000 people have been stuck at the site since March after the Greek-Macedonian border was closed.
Despite terrible living conditions, many of the migrants and refugees in the camp had previously resisted attempts by Greece's government to get them to leave.
Most have now reportedly been bused to state-run centres further south.
At its peak in February, at least 12,000 people were stranded in the Idomeni camp having been prevented from continuing their journey further north.