US rejects Russia proposal for joint air strikes in Syria
Comments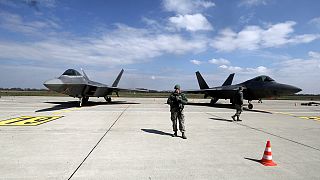 The US has rejected a Russian proposal to carry out joint air strikes against jihadist groups in Syria, saying they have different objectives.
It comes after the Russian Defence Minister Sergei Shoigu called for the two countries to cooperate on military operations to target the groups not observing the US-Russia brokered truce.
"We should start joint actions between the Russian air force and the air force of the US-led coaliton on May 25 and plan and carry out air strikes on targets and units belonging to al-Nusra and other illegal military groups, that do not observe the ceasefire."
In effect since late February, the truce has led to a decrease in violence, but it is showing signs of crumbling.
A US state department official said that Bashar al-Assad's forces had been responsible for many ceasefire violations, and called on Russia to put pressure on its ally the Syrian government.
While Russia supports Assad, the US is backing groups attempting to overthrow him in a conflict which is now into its fifth year and has claimed the lives of at least 250,000 people.
The US and Nato ceased all formal military cooperation with Moscow when it annexed Crimea in Ukraine in 2014.