Families wait for news on Egyptair flight MS804
Comments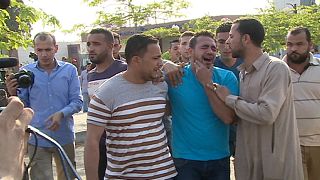 56 passengers, 10 crew, two babies and one child on board
30 Egyptians, 15 French, two Iraqis and one each from Britain, Sudan, Chad, Portugal, Algeria, Canada, Belgium, Kuwait and Saudi Arabia
families express anger over lack of information
Sixty six people were on board the Egyptair flight when it disappeared from radar.
Among them, an economics professor and father of two, a student from Chad on his way to visit family, two babies and one child.
These are just some of the portraits emerging from the relatives who are waiting anxiously for answers.
In Paris, many family members rushed to the airport for news, with some catching flights to Egypt in the hopes of finding out more.
"Some families, some family members (of the victims) have left, mostly families of Egyptians who have family ties in Egypt, with the idea that maybe they would be able to find out more information. Today a great difficulty in this tragedy is that they have absolutely no information, and I think it's urgent to inform these families directly," expplained Stephane Gicquel, Secretary General of the National Accident Victims' Federation in France.
From Paris to Cairo airport, families encountered the same agonising wait. Many were taken to a crisis centre where they could expect updates. But some expressed anger over the authorities' response to the crisis.
"Everything I've heard was on TV but some information contradicts other information. Now I will rest a little bit and I will wait. I pray for all the victims."
"We want the whole truth, we need to know what happened to our sons," exclaimed one man. "Airport authorities have a responsibility to tell us the truth and what really happened to this airplane. Did it fall and crash into the sea or was it hijacked or what happened," he asked.
The passengers came from Egypt, France, Britain, Belgium, Portugal, Algeria, Sudan, Chad, Iraq, Saudi Arabia and Kuwait, all with families fearing the worst.
Briton Richard Osman is feared dead after the plane went missing. British media report him as a 40-year-old geologist and father of two.
British passenger on EgyptAir flight named as 40-year-old father of two Richard Osman https://t.co/ScLaD1WbNVpic.twitter.com/8LLIoRDmWc

—

LBC

(@LBC) May 19, 2016
João Silva from Portugal, father of four and civil engineer was also on board the plane.