Rare 'Unique Pink' diamond dazzles buyers with record-breaking auction sale
Comments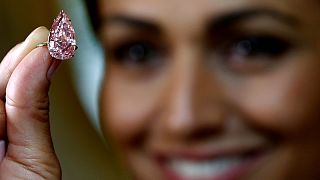 The "Unique Pink" has broken all records for any jewellery auction.
Weighing 15.38 carats, the fancy vivid pink diamond has gone under the hammer at Sotheby's, Geneva, for a colossal 24.8 million euros.
The auction house described the rock on its website:
"In addition to receiving the highest possible colour grading for a pink diamond from the Gemological Institute of America, the "Unique Pink" has been found to be Type IIa, displaying "exceedingly pure structure."
'Unique Pink' diamond sells for US$31.5 mln, making it the most expensive fancy vivid pink diamond ever auctioned pic.twitter.com/rBQGiozEHD

— CCTVNEWS (@cctvnews) May 18, 2016
Cora International sold the stone, which originates from the Kimberley region of South Africa. Speaking on behalf of the manufacturer, Ehud Laniado, said:
"That diamond is very rare because of its strong hue and (the) dominant, even spread of colour on the stone. The size and purity are rare."
'Unique Pink' Diamond Sells for $28 Million at Auction #TorieStrongpic.twitter.com/Nj6nKOiqga

— Maryjane Presson (@maryjanep515) May 18, 2016
An anonymous, private collector from Asia bought the stone, setting the record for the highest price ever paid for a diamond of its kind.