A Yazidi girl's harrowing tale of escape from ISIL captivity
Comments
By
Euronews
with
AP, United Nations, i-D.vice.com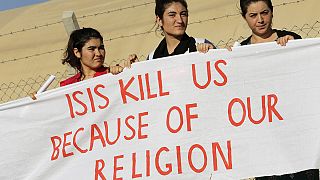 Lamiya Aji Bashar, an Iraqi Yazidi, tells a tortuous tale of her escape from ISIL captivity.
Her whole family was abducted from their home near Sinjar in northern Iraq in August 2014.
The Sunni extremists reportedly separated them. Lamiya still doesn't know what happened to her parents, who are presumed dead. One of her six sisters, nine-year-old Mayada, is believed to still be being held captive.
Her other five other sisters and her brother were able to escape. The girls are now in Germany and their brother in the Iraqi Kurdish region.
Our @Khalsa_Aid team in Iraq assisting Yezidi refugees.We providing monthly food rations. https://t.co/4tE2ZPJQ2Ypic.twitter.com/hoq99UVbXO

— ravinder singh (@RaviSinghKA) May 18, 2016
Lamiya says she was passed five times between ISIL followers, each of whom beat and sexually abused her. But she held on to a firm belief that she would escape.
She finally managed to flee with two other Yazidi girls. However the nightmare wasn't yet over. During their escape the other two girls were killed in a landmine explosion and Lamiya lost her right eye.
The United Nations is investigating whether or not ISIL has committed genocide against ethnic and religious minorities in its self-styled caliphate across parts of Syria and Iraq.
According to Kurdish local government figures, over 3,000 Yazidis are thought to remain in ISIL captivity.