France poised for fresh strike action over labour reform bill
Comments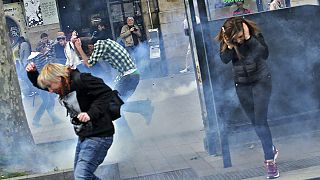 French president Francois Hollands says he will not withdraw a controversial labour reform bill despite resistance in parliament and fresh tensions on the streets.
Opponents to the bill say it would worsen working conditions, make it easier for companies to fire workers and increase unemployment.
The head of the hardline CGT union says Hollande needs to listen to people's concerns.
"The president isn't acting like the head of state when he refuses to listen to the citizens," said Philippe Martinez. "I am reminding you that 74 percent of French people are rejecting this reform and that one out of two Frenchmen is in favour of the mobilisation [against labour law reforms]."
Holland told radio station Europe One why he will not abandon the reform bill.
"This law will pass. I will not back down because too many governments backed down and therefore I found the country in those conditions when I took office in 2012. So, in these difficult situation, I cannot back down while a compromise has been found, reformist unions are backing this text and a majority of socialists are ready to back it."
France is facing a tense week of strikes and other union action.
Truck drivers demonstrated on Tuesday and rail workers are downing tools until Friday morning.
Unions have called rolling strikes by airport staff and other workers over several weeks.