Francois Hollande scores lowest poll for a French president
Comments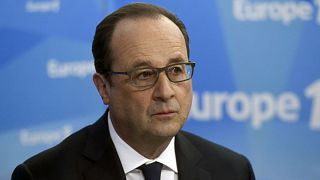 It never rains but it pours. Does that expression sum up the presidency of Francois Hollande, who has broken records for his unpopularity?
...things are better now...

French President
Four years ago in a downpour after being elected president he made the traditional drive up the Champs Elysees to the Arc de Triomphe. New elections will be held next year and he has yet to confirm his intentions.
Critics of the socialist president speak of broken promises and a negative legacy. But of course all results are questionable and it could be said all presidents have not kept their promises. But not everyone has made the mistake of denying their own convictions as with the 49.3 article of the constitution.
"Forty nine point three is a brutality. The 49.3 is a denial of democracy. The 49.3 is a way to slow down the parliamentary debate," he said in the past.
A 17% approval rating, an average of 18% since January 2014, constitutes unpopularity unprecedented in the history of the Fifth Republic.
Francois Hollande gives the impression of a president disconnected from his ideas, his party and his people.
"It will actually be better for France, not necessarily for all the French, I agree," he declared.
He used the phrase "things are better now" on radio in April. But it lacked credibility and in view of the plummeting popularity ratings was seen as a snub to the French. The protests against the introduction of the new labour laws gained momentum. Analysts saw the protests as an expression of a broader discomfort with this government and politics in general.
Before that there had been the debate on stripping people of their nationality. After a modest boost in the polls for his handling of the Paris terrorist attacks, the 61-year-old again reversed his statements on the constitution and his convictions.
"We need to have the power to remove French nationality from a person convicted of a violation of the fundamental interests of the nation, a terrorist act, even if born French," he told the nation in 2016.
In 2010 he had said: "Is depriving a person of nationality going to improve anything for the protection and safety of our citizens. No. Is it consistent with our history, our traditions, our constitution, why would we call into question these fundamentals?"
He stood firm on his convictions on the nationality debate before backing down. Once again he gave the impression of a leader lacking consistency. Commentators believe he will stand again for the presidency but with a year to the polls he has lost a large part of the electorate and his party while this week his detractors tried to pass a motion of no confidence in his government.