Russia warns of boycotting next year's Eurovision Song Contest
Comments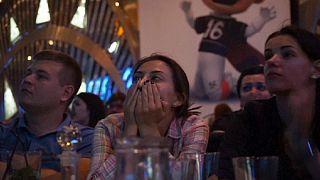 While Ukraine hailed their country's victory in the European Song Contest, many Russians have been angered by the result. They described the pop music event as having been skewed by anti-Russian stereotypes and there is talk of a boycott.
Franz Klintzevich, a member of the Russian upper house of parliament, said he believed the Ukrainian hosts would exploit next year's contest to advance their political agenda in their conflict with Russia.
"If nothing changes in Ukraine, I don't think we should take part in this," he was quoted as saying by RIA news agency.
Among members of the Russian public there was disappointment over what they saw as a growing politicisation of the contest.
"Of course, I supported our entry (Sergey Lazarev). You know, but politics has burst into music. Politics manipulates our music, and it is very sad," said one Moscow resident.
Tourism Manager Maria Bukharova said the the whole of Europe supports Ukraine: "It was so transparent. In my view it was too transparent, too obvious, and everyone understands that the real winner was our Sergey Lazarev."
#Russia is outraged over how #Ukraine's #Eurovision winning 'political' song was allowed in the competition. #ESChttps://t.co/ShR7t0Gpg7

— Լevon (@Levpost) May 15, 2016
Russia and Ukraine have been locked in a bitter feud since Moscow annexed Crimea from Ukraine in February 2014 and was then accused of fuelling a bloody uprising by pro-Russian rebels in Ukraine's east.
However, remarkably, the tensions between Russia and Ukraine were not reflected in the public vote by viewers in Saturday's contest, with Ukrainians choosing Russia's entry as their favourite and Russia ranking Ukraine second — a sign of the enduring ties between many people on either side of the border.