EU slammed for 'lack of vision' in migrant crisis response
Comments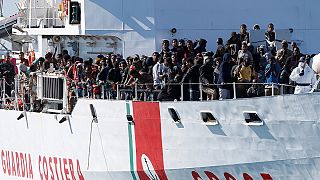 The EU is facing further criticism over its handling of the migrant crisis.
The UN high commissioner for refugees, Filippo Grandi, is reported to have said that just turning people away won't work.
He has called for more countries to help ease the pressure.
The response has also been slammed by a UN human rights envoy, who has been visiting camps and other facilities in Greece. :
"I think that there is a lack of vision at EU level. We need a much more structured, long term strategy, a generational strategy of where we would like to be in 10 years and 20 years about migration, about visa facilitation, about visa liberalisation, about mobility across borders," François Crépeau, UN special rapporteur on the human rights of migrants, told the media.
Crépeau also highlighted concerns about the detention of children.
The EU's been focusing on Turkey to help ease the crisis. But Ankara said on Friday that talks on a deal to provide visa-free travel in return for stopping migrants reaching the EU had hit the buffers.