Special TV tribute show for UK Queen
Comments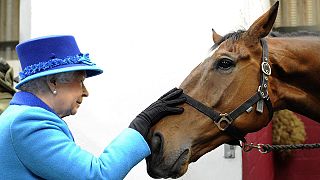 The Queen's love affair with horses stretches back beyond her 63-year reign, and the Royal Windsor Horse show will close in style with a special tribute to the UK monarch.
A special televised event complete with Hollywood royalty will honour her 90th birthday. Dame Helen Mirren and actor Damien Lewis are among the stars topping the bill.
At Windsor for euronews Andrea Bolitho said:
"Tickets went on sale last year and all 25,000 were snapped up in a matter of hours. With a cast list that includes Oscar winners and opera stars, the people here today really are the lucky few."
The gala show tops off the five-day equestrian event which featured top class show-jumping and a Shetland Pony Grand National.