Birthday celebrations for Queen Elizabeth II continue: how long can Britain's love of monarchy last?
Comments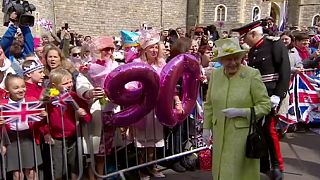 Britain's Queen Elizabeth II continues to celebrate her 90th birthday in grand style.
The Royal family will have a front row seat on Sunday night (May 15) to view a star-studded show telling the story of the Queen's life and reign using music, dance and horses.
The Queen became the UK's longest serving monarch last September and surveys show she's a popular, even beloved figure for many Britons, with around 70 percent supporting the continuation of the monarchy.
Rare archive images of the Queen and her father have been released ahead of the show.
Queen images released ahead of 90th birthday celebration show https://t.co/1MK3A6WVHS via MailOnline

— Mark Stewart (@RegalEyes) May 14, 2016
But how long can Britain's love of monarchy last?
"Politicians come and go. A monarchy I suppose is like a good bottle of wine, it gets better with age," argued Ian Roberts, of the British Monarchist League.
Graham Smith of the Republic movement, which wants to see the monarchy abolished, said: "In a hereditary monarchy you have to start thinking about what's going to happen next. And I think the monarchy as well are worried… they know this is going to be a problem for them as King Charles is not going to be anything like as popular."
At Windsor Castle, such questions seem a long way off, with most people there simply getting ready for the birthday party of a lifetime.
Sunday's show will be broadcast live, will last 90 minutes and feature 900 horses.